Calcium Carbonate Ultrafine Vertical Grinding Roller Mill
From: ?? Date:2021-08-25 06:19:48
Calcium carbonate ultrafine vertical grinding roller mill is an efficient industrial grinding mill. It can grind calcium carbonate into a fine powder(150-3000mesh). Calcium carbonate is the upstream and raw material for most industrial manufacturing, covering almost all the production and manufacturing sectors of light and heavy industries.

Calcium carbonate powders of different finenesses have different application ranges. Common calcium carbonate powders include 200 mesh, 400 mesh, 600 mesh, 800 mesh, 1200 mesh, 1500-3000 mesh, etc. The CLUM series of ultra-fine vertical mills developed and produced by CLIRIK can meet the production needs of various calcium carbonate powders, and the fineness can be freely adjusted between 150-3000 mesh.


What is calcium carbonate and what is its use?

Heavy calcium carbonate is abbreviated as heavy calcium, which is processed into white powder from high-quality limestone or calcite. Its main component is CaCO. Heavy calcium has high whiteness, good purity, soft hue and stable chemical composition.

It is usually used as a filler. It is also widely used in daily chemical industries such as artificial floor tiles, rubber, plastics, papermaking, coatings, paints, inks, cables, construction supplies, food, medicine, textiles, feed, toothpaste, etc.
The crushing and grinding process of calcium carbonate:

1. Crushing stage:
The large piece of calcium carbonate material is crushed by the crusher to the fineness (15mm-50mm) that can enter the mill.

2. Grinding stage:
Small pieces of calcium carbonate that meet the conditions for entering the mill are uniformly and quantitatively fed into the grinding chamber of the mill through the feeding system, and pulverized in the grinding cavity.

3. Classification stage:
The ground material is classified by the separator along with the system airflow, and the unqualified powder is returned to the main machine's grinding cavity for re-grinding.

4. Powder collection stage:
The powder that meets the fineness enters the powder collection system through the pipeline with the airflow, and the gas and powder are separated. The finished powder is sent to the finished product silo by the conveying device, and then is packed by a powder tanker or an automatic baler.
Calcium carbonate ultrafine vertical grinding roller mill:

CLUM series vertical ultrafine mills can grind non-metallic ores with Mohs hardness less than 6. The powder produced by this equipment has high whiteness, high fine powder content and good powder shape, suitable for use as high-end fillers, such as papermaking, advanced coatings and other industries. Click here to get more about CLUM serise vertical roller mill.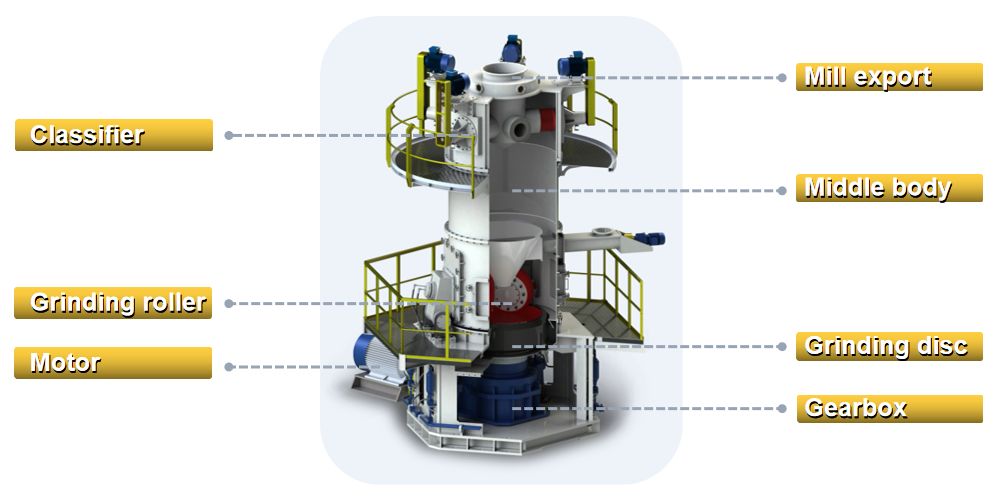 Application of calcium carbonate powder produced by CLIRIK ultrafine vertical roller mill:

Calcium carbonate is commonly used in the construction industry and paper industry, and can be used as an additive in the food industry.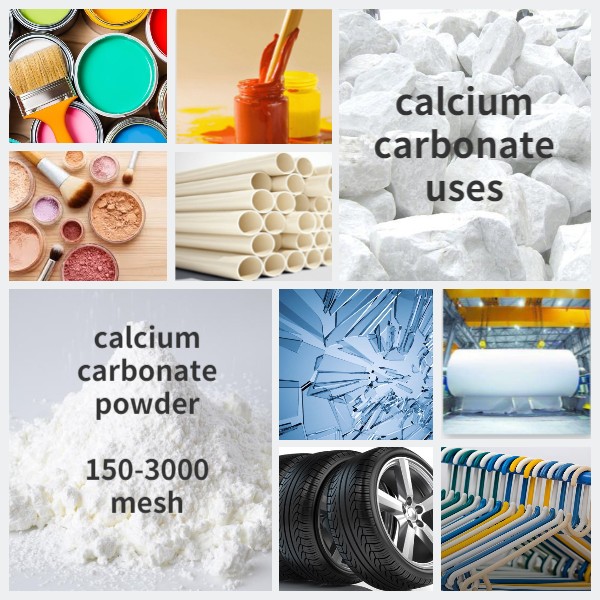 Calcium carbonate within 200 mesh can be used in various feed additives, and the calcium content is more than 55.6 without harmful ingredients.
250 mesh to 300 mesh calcium carbonate is used as raw material for plastic factory, rubber factory, paint factory, waterproof material factory and interior and exterior wall painting, whiteness is above 85 degrees.
350 mesh to 400 mesh calcium carbonate is used to make gussets, drain pipes, chemical industry, and the whiteness is above 93 degrees.
400 mesh to 600 mesh calcium carbonate can be used for toothpaste, soap, whiteness above 94 degrees.
800 mesh calcium carbonate is used in rubber, plastic, cable, pvc, and the whiteness is above 94 degrees.
1250 mesh calcium carbonate can be used for pvc, PE, paint, paint grade products, papermaking primer, papermaking surface coating, whiteness above 95 degrees, with high purity, high whiteness, non-toxic, odorless, low fine oil, Features such as low hardness.
Pre:The service life of ultra-fine vertical roller mill
Next:Sepiolite ultrafine vertical grinding mill
Related news:
HGM125 ultrafine grinding mill delivery site
What are the talc grinding equipment?
Why can't the Raymond mill not process wet materia···
What is the working performance of the limestone u···
7 common troubleshooting methods for Raymond verti···
Sepiolite ultrafine vertical grinding mill