Calcium Carbonate superfine vertical roller grinding mill with 5um
From:未知    Date:2015-10-30 15:59
Clirik Machinery devoted to provide Calcium carbonate processing and grinding solution,The recommended Calcium carbonate Powder grinding Machine is YGM raymond Mill and HGM
superfine vertical roller grinding mills
, which meets client's requirements of excellent fineness, reliable performance and favorable price.Clirik Calcium carbonate Ultrafine pulverizer is mainly applied to non-inflammable, non-explosive and brittle materials with Mohs' hardness under six. Such as calcite, chalk, Calcium carbonate, dolomite, kaolin, talc, etc, totally more than 100 kinds of materials. Product fineness can be controlled between 0~3000 mesh.LUM series superfine vertical roller grinding mills can be widely used to process the superfine dry powder of none-metal ores such as calcite, marble, limestone, coarse whiting, talc, barite and dolomite and so on.
Features of Calcium Carbonate superfine vertical roller grinding mills
1. High grinding efficiency, little pollution to the final products.
2. Advanced, efficient and energy-saving powder-concentrating technology.
3. Secure and efficient operating principles, intelligent operating system.
4. Little attrition.
5. Convenient and easy to maintain.
6. Environmental friendly.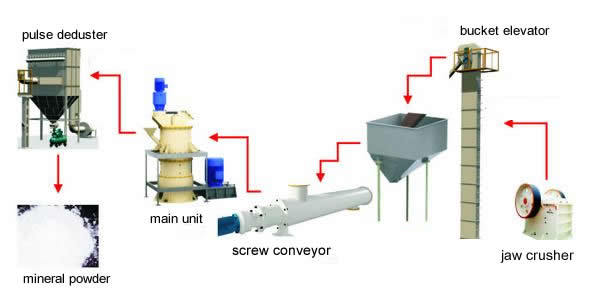 Calcium carbonate powder processing flow by
superfine vertical roller grinding mills
:
Configured Equipment: Hopper+ Bucket Elevator+Vibrating Feeder +Ultrafine pulverizer+ Cyclones + Bag Filter
Stage 1. Calcium carbonate are transported into hopper by truck, and then lifted into storage silo of main machine by bucket elevator.
Stage 2. Calcium carbonate comes from hopper and feed into main mill uniformly by vibrating feeder, then goes into pipes.
Stage 3. In the grinding process, qualified final product after screening system will go into powder collector by pipes, and then go out from outlet. Unqualified product will go back to main mill and regrind until it is qualified.
Stage 4. The air flow after purification will go into fan from pipes that up the bag filter, the wind is circular, all other pipes airflow is flow in negative pressure except the pipe from fan to main mill.
Shanghai Clirik Machinery Co.,Ltd is the professional
calcium carbonate grinding mill
manufacturer, devoted to the calcium carbonate powder process more than 10 years.Clirik can supply Vertical Roller mill,Raymond Mill,Ball Mill,Ultrafine mill,Hammer mill used for calcium carbonate grinding. And our company have gotten the ISO9001:2008, and the HGM calcium carbonate vertical roller grinding mill passed the CE certification. If you are interested in calcium carbonate
vertical roller grinding mill,
we are welcoming to your visiting.We have developed different solutions for calcium carbonate powder grinding processing,
上一篇:How To Reduce Noise Of Vertical roller mill
下一篇:The application of superfine vertical roller mill in non-metallic mineral ultrafine powder processing
Related news:
The application of superfine vertical roller mill i
How to produce the calcium carbonate fine powder
The Calcium Carbonate Powder for Toothpaste Process
Usage of Heavy Calcium Carbonate Powder